If you aren't already doing this, you're wasting valuable product!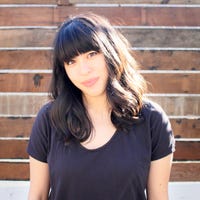 By
Gina Mei
Apr 13, 2017
By Baze Mpinja
With everything you've got going on in life, it's easy to slip into makeup-routine autopilot. That is, until you see beauty looks like these. Get inspired by this trio of standout looks, created by makeup guru Michael Anthony, for when you're sick of the same old thang all...
Read More
By
Victoria Jowett
The beauty hall can be a scary place. I'm not talking creepy-twins-from-The-Shining type of scary, but with all the spotlights, jam-packed displays, and overeager sales assistants, it can feel kind of intimidating. Yup, regardless of whether you consider yourself a makeup newbie or a fully fledged beauty pro, it's easy to...
Read More
Sure, anyone can make her face look perfect in any photo (Thanks, Facetune!), but the same can't be said for IRL. Exception: you, thanks to these insider tips (and a few key products) that shortcut you to Photoshop-esque perfection.
Read More