The beauty hall can be a scary place. I'm not talking creepy-twins-from-The-Shining type of scary, but with all the spotlights, jam-packed displays, and overeager sales assistants, it can feel kind of intimidating. Yup, regardless of whether you consider yourself a makeup newbie or a fully fledged beauty pro, it's easy to get overwhelmed.
That being said, if you can get past the fear, the beauty hall can be an ah-mazing pit-stop before a night out. The majority of counters offer makeover services, and while there is usually a booking cost, it's often redeemable against purchases, meaning you get the makeover for free. Sounds good, huh?
With so many beauty brands out there, I decided to hit up 10 of the best and see what each of their makeovers look like IRL (I know, it's a hard job, but someone's gotta do it 🙈 )
To keep this experiment fair, when it came time for my makeover, I gave each of the different makeup artists the exact same instructions. I asked for a "glam makeup look" — not quite ball-gown glam but appropriate for an evening out. I gave zero inclination about color preference, coverage, or finish; instead all the big decisions were made by the makeup artists. After all, I figured half the fun would be seeing how each brand defined the concept of "glam" — yup, consider this my own mini social experiment. Intrigued? Here's what happened...
1. M·A·C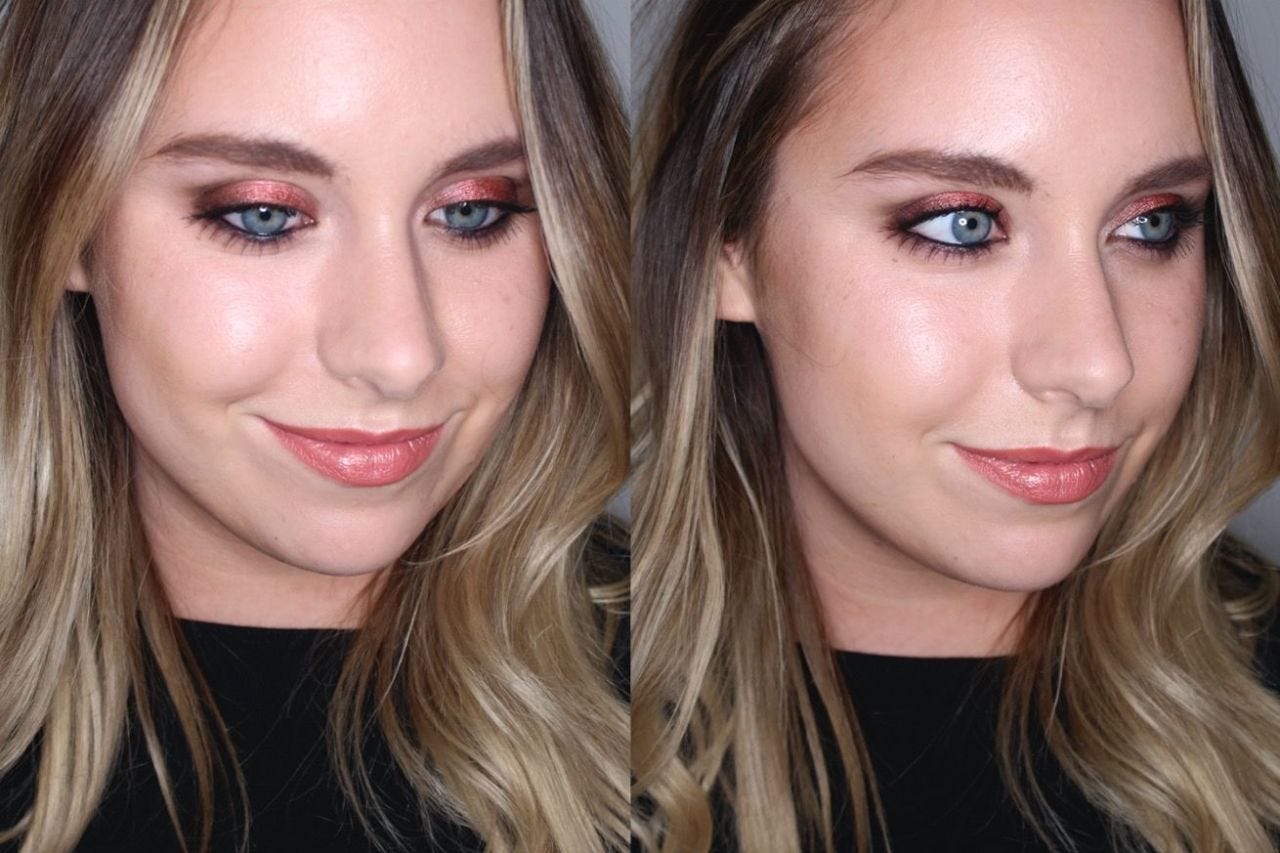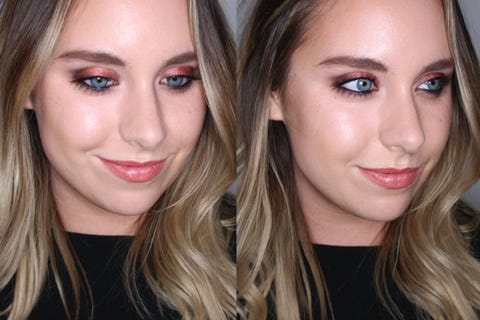 When it comes to makeup counters, I've always considered M·A·C to be no. 1. The professional-worthy formulas and strong shade selection mean it's usually my first port of call, so naturally I had high hopes for this makeover, and thankfully it totally surpassed them.
More than "just a makeover," M·A·C believes in educating their customers, so when you leave the counter, you do so with the confidence and knowledge to wear their products (and wear them well). They have a whole menu of makeup services from a "focus feature lesson" to a "bridal makeover."
My makeup artist took his time to prep my skin and the effort paid off. He concocted a DIY sheet mask using the Marine Bright Softening Lotion and a few cotton wool pads, and then doused my complexion in the Mineralize Timecheck Lotion to soften and blur pores.
After neutralizing my blotchy, redness-prone complexion with a yellow color corrector and a little Face & Body Foundation, he looked at my eye color and selected a few copper-toned shadows, which, he explained, "would bring out the green in my eyes."
In the hour and a half it took to do my makeup, I learned so much. From how to recreate a feathery brow, to why I've been wearing black eyeliner wrong my whole life — more on that here.
Products Used: Marine Bright Softening Lotion; Mineralize Timecheck Lotion; Strobe Cream in "Goldlite"; Face & Body in "C2"; Studio Fix Perfecting Stick; Brow Pencil in "Lingering"; Eye Shadows in "Star Violet," "Coppering," "Brun," and "Stolen Moment"; Eyeliner in "Black Brilliance" and "Groundbreaker"; Instacurl Lash, Pro Longwear Lip Liner in "Nice & Spicy"; Lipstick in "Shanghai Spice"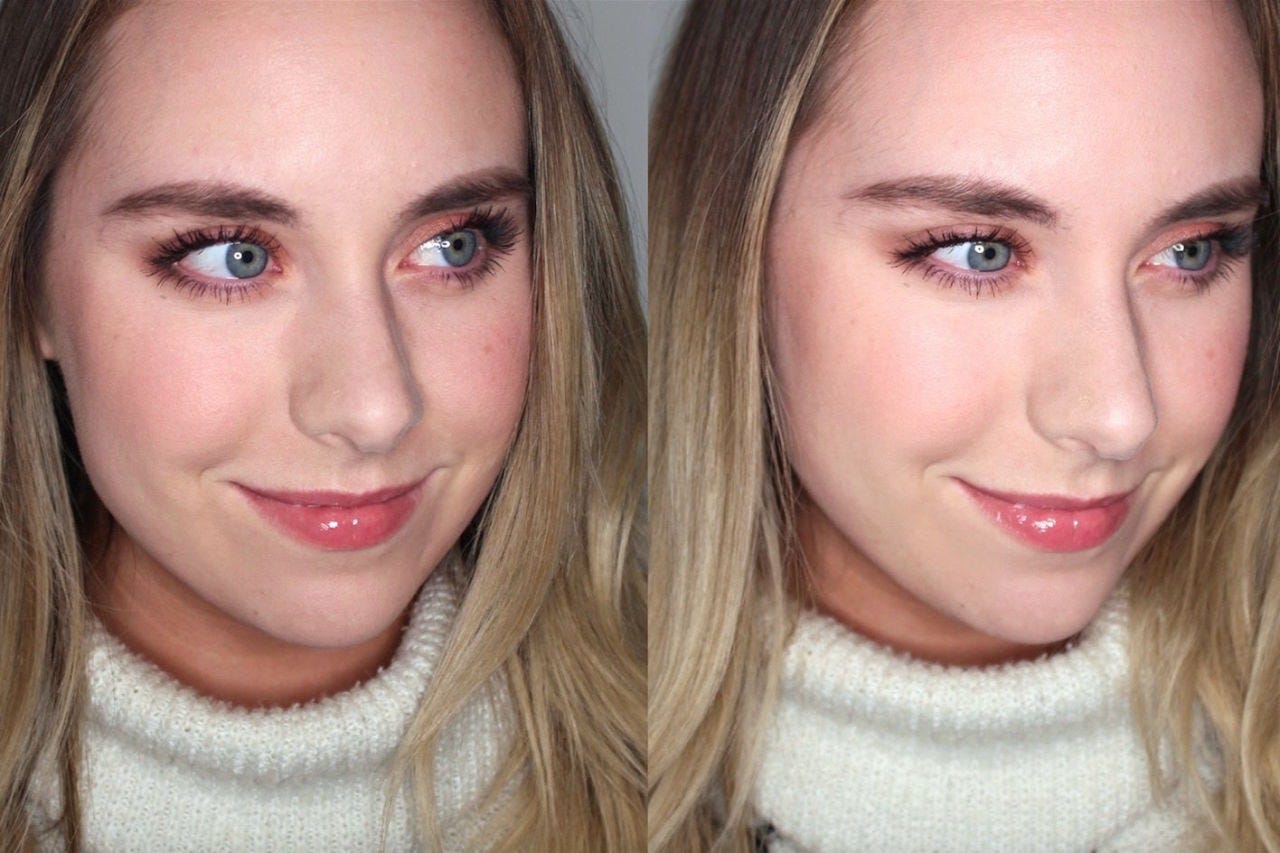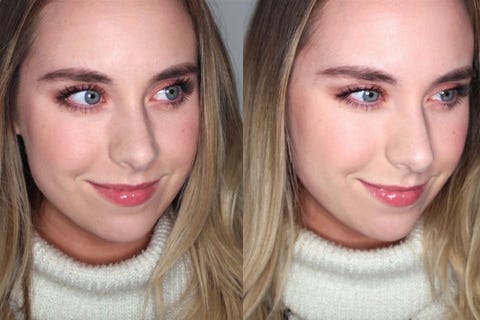 I have to admit, I will always have a soft spot in my heart for Dior. My first ever "grown-up" foundation was by the brand, and to this day, I still remember how I treasured that bottle.
My makeup artist opted for a light-handed, natural approach to the makeover, choosing to enhance my features, rather than mask with makeup.
I was seriously impressed with the blush and lip tint. Both contain clever pH-adaptive technology and change color when they come into contact with the skin. This means you get your own personal shade of pink, guaranteed to suit your complexion.
The biggest deal though? The mascara (or mascara-s, I should probably say). Yes, I've never thought to use a mascara primer before, but my makeup artist coated used the Diorshow Lash Maximizer 3D to prime my lashes and it made a massive difference. The combination of primer and Dior's Iconic Overcurl Mascara left my lashes looking longer than I ever thought possible.
Products used: Prestige La Creme; Prestige Le Concentré Yeux; One Essential; Diorskin Forever & Ever Wear; Diorskin Forever Fluid Foundation; Flash Luminizer; Diorskin Forever & Ever Control Loose Powder; Diorskin Rosy Glow; 4 Colors Eye Shadow Palette Couture Nuance in "Coral Graduation"; Diorshow Maximizer 3D; Diorshow Iconic Overcurl Mascara; Diorshow Brow Styler; Lip Sugar Scrub; Dior Addict Lip Maximizer; Dior Addict Lip Glow Pomade.
3 Chanel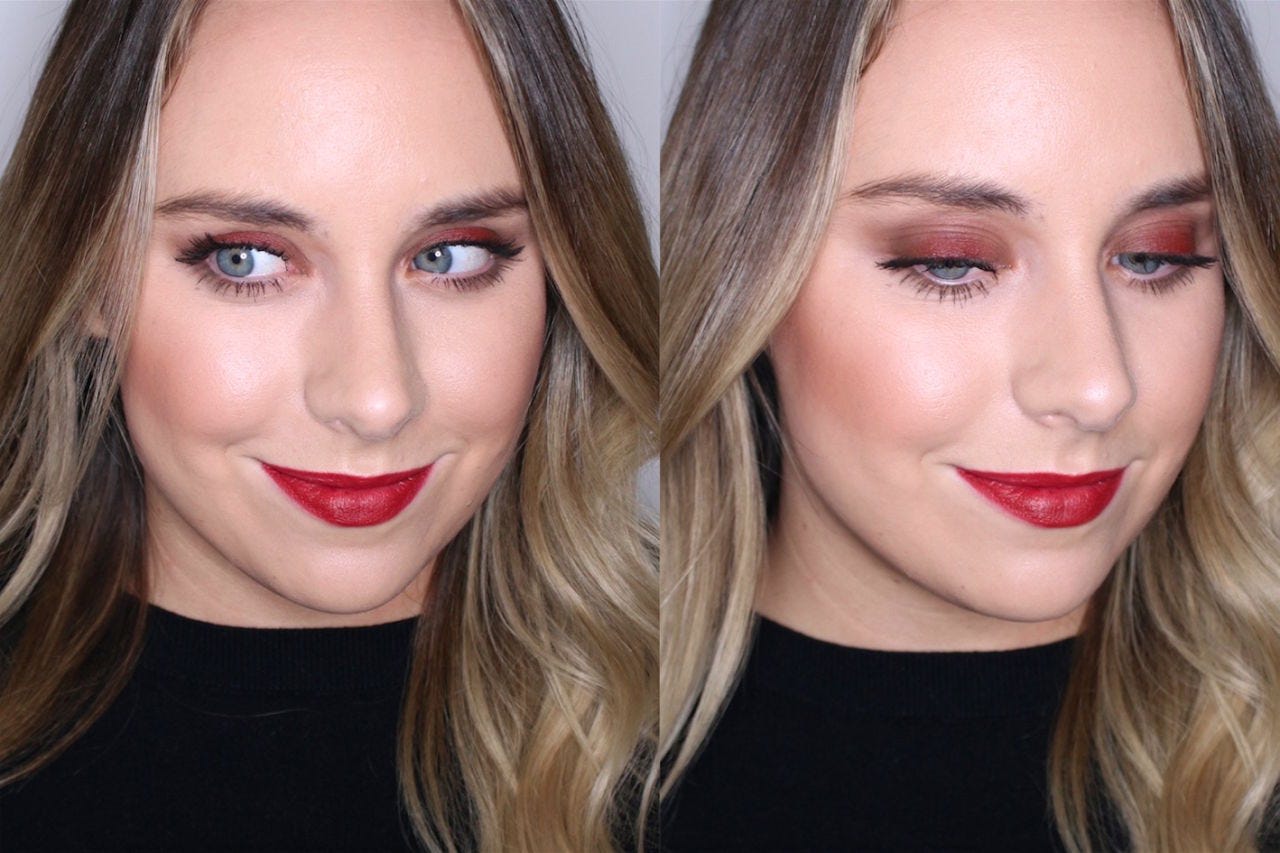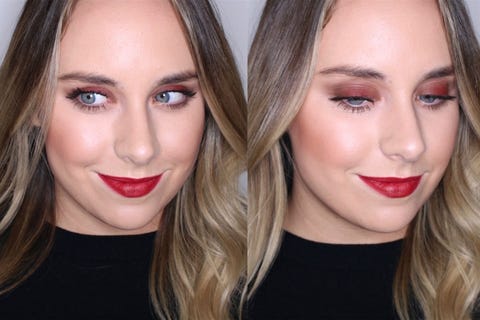 Time it took: 1 hour, 15 minutes
Chanel wowed me with this look ... Yes, it's a little more makeup than I'd normally wear, but out of all the appointments, I left feeling so confident. This is the kind of look I'd want to wear for a night out, a date, a work dinner ... I'd pretty much wear it for any evening occasion.
Once again, my makeup artist took the time to prep my skin, cleansing, toning, and applying Chanel's new Blue Serum — which instantly gave my face a "freshness" and ensured the makeup went on flawlessly.
My makeup artist selected the shades she thought best suited my coloring: a blend of matte browns with a pop of red on the eyes, and a deep crimson on the lips. She teamed the colors with a dusting of bronzer over the high points of my face and a subtle hint of blush on the apples of my cheeks. The statement lip and eye were anchored by the matte textures, and together they created the perfect juxtaposition against the the glowy finish on my cheeks.
The highlight of the appointment was finding out that the beauty boutique also offers manicure services, so before my makeover, I treated myself to a shape and polish with Chanel's classic "Rouge Noir" nail color.
Products used: Lotion Confort; Blue Serum; Le Blanc; Sublimage Le Teint; Correcteur Perfection; Coco Code (aka the best blusher-meets-bronzer ever); Les 4 Ombres Multi in "Candeur et Experience"; Stylo Yeux Waterproof in "Espresso"; Le Volume De Chanel; Crayon Sourcils; Rouge Allure Velvet in "Rouge Vie."
4 YSL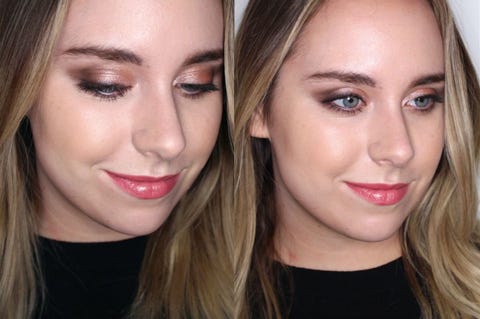 Time it took: 45 minutes
YSL nailed "glam" makeup, without it looking OTT. My makeup artist took his time to perfect the skin and managed to make me fall in love with the Touche Éclat Le Teint Foundation. Seriously, if your complexion is prone to tiredness, this foundation will instantly bring you back to life.
The standout of the makeover though? It had to be the shimmery smoky eye. Using a blend of rose and gray shadows from the Couture Variation Eye Palette in Paris, my makeup artist crafted a beautiful sculpted eye. He then finished the look with a looot of mascara — because, the lashier the better, right? (I vote yes).
To me, this makeover was sophisticated and kinda sexy (yes, I know that's a cringe way to describe it, but you know what I mean...) The glossy lip, dark shimmery eyes, and dewy skin made for the ultimate dinner date look.
Products used: Touche Éclat Blur Primer; Touche Éclat Le Teint Foundation; Anti-Cernes Multi-Action Concealer; Touche Éclat; Couture Contouring; Couture Variation Eye Palette in "Paris"; The Shock Mascara; Couture Brow Palette; Couture Brow, Vernis À Lèvres Vinyl Cream Liquid Lipstick.
5 The Estée Edit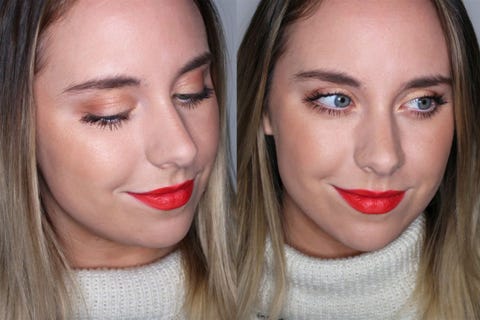 The Estée Edit is an undeniably cool brand (which kinda goes without saying when Kendall Jenner helps "guest edit" the collection), so naturally their makeover was 👌.
My makeup artist decided the lips were going to be the main focus of this look, and as a statement pout devotee, I was thrilled to have a little color in my life. She opted for a fiery orange-red lipstick (Mattifed Lipstick in "Killin' It") that "would make my eyes pop."
My skin was perfected with a little foundation and then given a dusting of bronzer to add warmth and counteract any signs of tiredness from a late one the night before.
Instead of reaching for an eye shadow, she swept a little bronzer across my lids, which tied well with the sun-kissed complexion. She finished with lashings of mascara for a wide-eyed, well-rested vibe (which, in my sleepy state, was muuuch appreciated).
Products used: Estée Lauder Advanced Night Repair; Rescue Balm; Late Night Eraser Brightening Eye Balm; Estée Lauder Double Wear Light Stay-in-Place Makeup; Flash Photo Powder; Barest Bronzer; Flash Illuminator; Barest Blusher in "First Love"; Gritty & Glow Face Palette; Edgiest Kohl Shadow Stick in "Iced"; The Edgiest Up & Out Double Mascara; Mattifed Lipstick in "Killin' It."
6 Urban Decay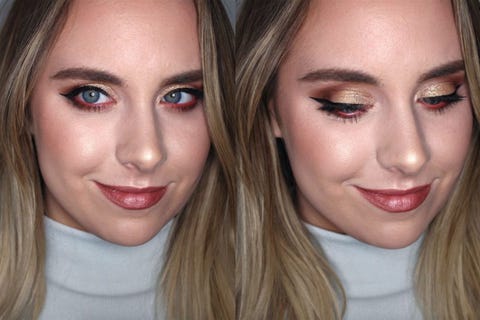 Time it took: 1 hour, 20 minutes
Urban Decay does "instagram makeup" like a boss and this look is no exception. It's hella highlight-y, there's a two-tone ombré eye shadow, super-strong brows, and a metallic lip — NikkieTutorials would be oh-so proud 💕
My makeup artist was so artistic and experimental when it came to the colors. She selected a combination of shades including golds, reds, and browns, these hues then ran throughout the look, across my eyes, cheeks, and lips. Every product was selected carefully and applied meticulously, and the end result was ah-mazing.
Yes, I'll be honest, it's a lot more makeup than I'd normally wear, but I'm all for experimenting. Plus, this makeover taught me that there's no reason to fear a heavier approach — especially if it's done by an artist as talented as the Urban Decay team 🙌 .
Products used: Quick Fix Prep Spray; Optical Illusion Primer; Naked Skin Liquid Makeup; Naked Skin Concealer; Naked Skin Powder Foundation; All Nighter Makeup Setting Spray; Eye Shadow Primer Potion; Naked 1 Eye Shadow Palette; Naked Ultimate Basics Eye Shadow Palette; 24/7 Eye Pencil in "Bang"; Heavy Metal Glitter Eyeliner in "Midnight Cowboy"; Brow Beater in "Taupe" and "Neutral Brown"; Perversion Mascara; Afterglow in "Sin"; Naked Flushed in "Streak"; 24/7 Glide On Lip Pencil in "Peyote"; Lipstick in "Peyote."
7 Bobbi Brown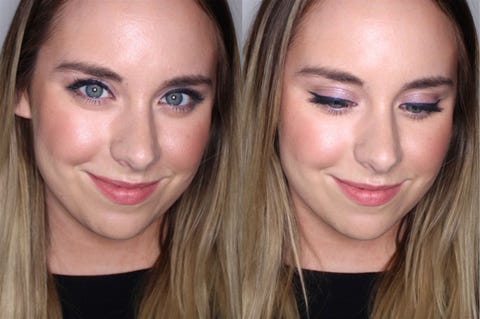 Time it took: 45 minutes
Bobbi Brown does "girl next door: makeup better than anyone ... Youthful glowy skin, rosy flushed cheeks, a pinky-nude lip, and a slick of eyeliner — what more could you want?
My skin was thoroughly cleansed with Bobbi's new Soothing Cleansing Milk to erase any dirt on the skin, then a touch of the vitamin-enriched face base was applied to hydrate and prep my skin for makeup.
At first glance, you may not notice, but the attention to detail with this makeover really impressed me. My makeup artist opted for a navy gel eyeliner to mirror the blue in my eyes, a dusting of brightening lilac shadow across my lids, and a touch of glitter in the center of my eyes to enhance the iris. Each product was selected carefully, and applied with precision and thought. Yes, it's colorful makeup, but also totally wearable, and not even slightly scary (even for the color-shy).
Products used: Soothing Cleansing Milk; Vitamin Enriched Face Base; Hydrating Eye Cream; Lip Balm, Long-Wear Even Finish Compact Foundation; Intensive Skin Serum Concealer; Intensive Skin Serum Corrector; Bronzing Powder; Brightening Brick in "Pastel Pink"; Perfectly Defined Long Wear Brow Pencil; Long Wear Cream Shadow in "Lilac"; Sparkle Eye Shadow in "Silver Lilac"; Long Wear Gel Eyeliner in "Denim"; Smoky Eye Mascara" Lip Color in "Pale Pink."
8 Bare Minerals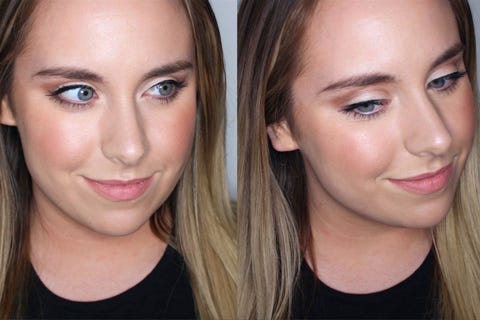 Time it took: 1 hour
I'm a bit of a Bare Minerals-newbie. I've tried a couple of the products in the past, but this makeover gave me the the chance to get to know more about the brand, and I was pleasantly surprised. The makeup comes in an awesome range of shades and I found the quality of the products used to be 👌👌. The brand is all about good-for-your-skin makeup, and it was cool to see how they embraced a "glam" approach to makeup, while still keeping my look natural(ish) and sophisticated.
After cleansing and prepping my skin with their moisturizer and a little serum, my complexion looked fresh and glowy. The majority of time was spent on my skin, prepping with primer, applying the Original SPF15 Foundation, and concealing where needed. After that, my makeup artist bronzed up my skin and dusted a some blush onto the apples of the cheeks.
If you're a fan of nude lip colors, Bare Mineral is the place to be, because they've just launched 40 (yes, 4-0) new nude lip colors and every single one is beaut. My makeup artist opted for the Matte Liquid Lip Color in "Cookie," a pinkish-nude that suited the pared-back makeover, perfectly.
Products used: Oil Obsessed Total Cleansing Oil; Skin Longevity Vital Power Infusion; Brilliant Future Age Defense & Renew Serum; Smart Combination Smoothing Lightweight Emulsion; Prime Time Foundation Primer; Complexion Rescue Tinted Hydrating Gel Cream; Original SPF 15 Foundation; bareSkin Complete Coverage Serum Concealer; All-Over Face Color in "Rose Radiance" and "Warmth"; Shimmer Eye Shadow in "Queen Phyllis"; Shimmer Eye Shadow in "Nude Beach" and "Bare Skin"; Matte Eye Shadow in "Pebble" and "Soul"; Lash Domination Ink Liner; Lash Domination Volumizing Mascara; Gen Nude Matte Liquid Lip Color in "Cookie"; Gen Nude Under Over Lip Liner in "Borderline."
9. Benefit Cosmetics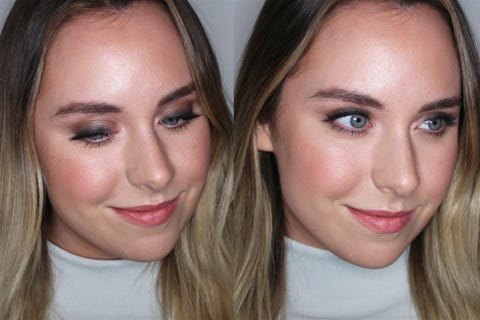 Time it took: 1 hour
When I asked my makeup artist what the most-requested makeover look was? She said, hands down, the classic smoky eye + nude lip. So, in order to stay true to the Benefit girl, that's what she did to my face.
Starting with the Total Moisture cream to give my dry skin a bit of life, she then applied the Hello Flawless foundation and Erase Paste concealer to cheat flawless-looking skin (well, as flawless as you can get the morning after a boozy dinner).
Benefit is known for their brow services, so I expecting to walk out with a full-on, sculpted, Instagram brow, but (thankfully) my MUA opted for a beautiful, soft, brushed-up brow.
The nude lipstick was a firm fave of mine — the dual-toned pen gave a pretty touch of pink to the lips, plus it was matte, without feeling dry.
Products used: Total Moisture; Fix It Up; Hello Flawless Foundation; The Porefessional Powder; High Beam; Erase Paste; Stay Don't Stray; Hoola Bronzer; Galifornia Blush; Precisely My Brow Eyebrow Pencil; Ready Set Brow; High Brow; Big Beautiful Eyes Eye Shadow; They're Real Eyeliner; They're Real Mascara; They're Real Double The Lip in "Nude Scandal."
10 Charlotte Tilbury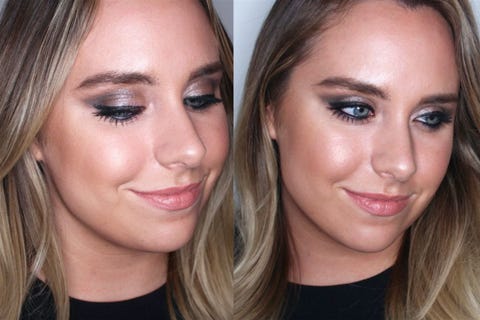 Time it took: 1 hour, 50 minutes
Charlotte Tilbury is the qween of red carpet beauty, so naturally a makeover by her brand is always going to be hella glam.
When it comes to a CT makeover, you can pick from a selection of Charlotte's signature makeup looks, including the "golden goddess" and the "rock chick." Once you've decided, one of her on-counter artist's will expertly apply it.
My makeup artist recommended the "rock chick," a look heavily inspired by Kate Moss: a smoky black eye, nude lip, and glowy skin. I was 100 percent sold.
From start to finish, having a makeover at Charlotte Tilbury is incredibly luxurious. Everything from the velvet-lined makeup chairs, to the ostrich feather displays and complimentary champagne. It's amazingly decadent.
Starting with the skin, my face was cleansed, massaged, moisturized, primed, and illuminated (and that's all before she even started on the makeup).
I lurrrve a smoky eye, and the Rock Chick Palette teamed with the Rock 'n' Kohl Eyeliner in Bedroom Black worked a treat for nailing that sultry smoke.
Products used: Multi-Miracle Glow; Charlotte's Magic Cream; Magic Eye Rescue; Wonder Glow Face Primer; Light Wonder Foundation; Airbrush Flawless Finish Powder; The Retoucher; Filmstar Bronze & Glow, Bar of Gold Highlighter; Cheek to Chic Blusher in "First Love"; Luxury Palette in "The Rock Chick"; Rock 'n' Kohl Eyeliner in "Bedroom Black"; Full Fat Lashes Mascara; The Feline Flick; Lip Cheat in "Iconic Nude"; K.I.S.S.I.N.G Lipstick in "Valentine"; Brow Lift; Legendary Brows.
Please follow and like us: